Parliament session begins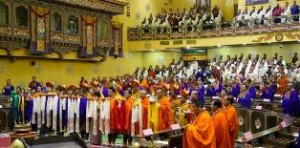 The first session of the second parliament has begun in the capital on Wednesday, which was postponed by four days due to death of 12 soldiers in Haa explosion.
His Majesty the King Jigme Khesar and Queen Jetsum Pema Wangchuk attended the opening ceremony of the National Assembly in the morning. They were received by Speaker of the National Assembly, the Prime Minister, the Opposition Leader, the National Council Chairperson and cabinet ministers at a traditional ceremony.
As always, the Speaker and Prime Minister expressed gratitude to King for his support to family members of the deceased army personnel.
Later in the afternoon, the king also attended the opening ceremony of the National Council.
King in his opening remarks, stressed about the importance of building a better and stronger nation for future generations.
This session of the parliament has very few businesses – will see debates on Tenancy Act of Bhutan 2004, Right to Information Bill 2013, Local Government Act 2009 and National Council Act 2008.
The important issues of discussion will be on this year's budget, that's already due by two-and-half months and the 11th five year plan.
Meanwhile, following a motion by Lingmukha_Toedwang Constituency MP Kuenga, the assembly resolved to restructure the existing 14 standing Committees to 9 Committees. The new committees of the parliament are:
1. Public Accounts Committee
2. Good Governance Committee
3. Foreign Relations Committee
4. Human Rights Committee
5. Women and Children Committee
6. Economic Development and Private Sector Committee
7. Legislative Committee
8. Environment and Social Welfare Committee
9. Ethics and Credential Committee
10. House/Parliamentary Affairs Committee