20 flown to camp from Kathmandu transit centre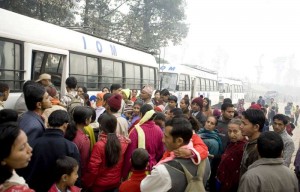 Bhutanese exiles headed for resettlement to United States are back to camps, unfortunately due to the US shutdown.
At least 20 individuals have been returned to camps from transit centre in Kathmandu. However, UNHCR has not explained the refugee any reasons for their return.
All of them had sold off their household items when they moved to Kathmandu seven days ago. Other neighbours used many of their huts while few were dismantled. As they are now flown back to camps, they are facing hurdles of shelter and food.
UNHCR has arranged for re-distribution of ration to the refugees as they are forced to take shelter in relatives' huts.
The US shut down has affected the resettlement. Since the process and funded by the government, until the congress passes the budget the resettlement is unlikely to resume.