Buddhist scholar demands voting rights for monks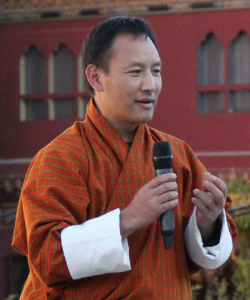 A famous Buddhist scholar has restarted debate against the constitutional restriction for religious personalities to vote in Bhutanese elections.
It is estimated 10 per cent of the Bhutanese population is monk – that translates to about 75,000 in numbers considering the national population is nearing 750,000.
At the 'Buddhism and Democracy' forum in Royal Thimphu college, Dr Karma Phuentsho said, "One can at least understand disallowing religious personalities to be non-partisan, just as civil servants, but depriving them of fundamental right to vote is ridiculous."
Bhutan's democratic principles and governing policies are attributed to have influenced by the Buddhist philosophy. However, the preachers of these teachings are excluded from the democratic exercises.
The founder of Shejuen and Loden foundations, citing Article 7, Clause 6 of the Constitution that stated 'a Bhutanese citizen shall have the right to vote', Phuentsho stressed the need to treat all people equally.
He cited the historical fact that the country was ruled by religious personalities in most of the times.
"It's ridiculous that religious persons should be excluded from such important role of nation building, of protecting sovereignty of country and of electing leaders that will run the country for at least five years," he said.