Election mood in Pema Gatshel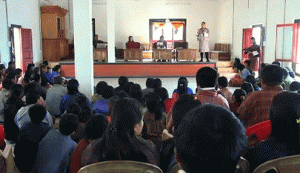 The campaigning for by-election in Nanong-Shumar constituency of Pema Gastshel district is now in full fledge with candidates from both the parties in the field asking for votes.
The seat remained vacant after the Jigmi Y Thinley resigned shortly after election on July 13 attributed to unexpected loss of this party.
The first common forum for the candidate, organised by the election commission, was held in Shumar Gewog on October 23 where the opposition candidate Dechen Zangmo failed to appear. She is scheduled to begin her campaign on October 25 and said she will focus on door-to-door campaign.
Re-incorporating the party's pledges, People's Democratic Party (PDP) candidate Pema Wangchuk promised one of the three colleges promised by party in eastern districts will be in Pema Gatshel.
Wangchuk had lost to Thinley in July election by a huge margin. Wangchuk is likely to win the seat after fourth attempts although the district is stronghold of opposition party Druk Phuensum Tshogpa (DPT).
Campaigning will end on November 7 and election will take place on November 9.