ESP ready, money yet to come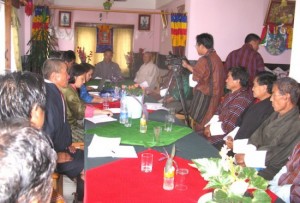 Though the Indian government has not released the budget yet, as committed, task force has finalised how the money under Economic Stimulus Plan will be invested.
According to the draft, the first phase of stimulating the economy would involve injecting banks with Nu 2.1B in the form of capital infusion or equity stake and subordinate debts.
In the second phase, the government plans to release Rs 1.5b as revolving fund (like overdraft loan) targeting small and cottage industries with the potential to generate employment, substitute imports and enhance exports.
The two government-owned banks, Bank of Bhutan limited (BoBL) and Bhutan Development Bank limited (BDBL) will receive Rs 500m each in the form of government equity while other banks will receive the money as subordinate debts and will be priced at 6 per cent.
Based on the reported capital adequacy ratio, Bhutan National Bank will receive Rs 500M, T-Bank and Druk PNB, Rs 150M each, and the two insurance companies, the Royal Insurance Corporation and Bhutan Insurance ltd. will receive Rs 200M and Rs 100M each.
However, there still questions if the banks will have enough capital adequacy ratio as prescribed by Royal Monetary Authority (RMA) and start lending.
The government also plans to introduce the micro finance institutions through ESP and the RMA has been entrusted to come up with policies and draft regulations.