New government initiates pay hike procedure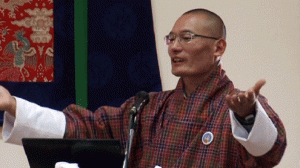 Thought the new government mentioned nothing about the salary hike in its annual budget speech in parliament recently, as promised during the election campaign, the cabinet has decided to form a new pay commission to recommend the government of need and rational for increasing salary of the government employees.
However, the names of those in the commission have not been made public. The names will be submitted to His Majesty the King for endorsement before making it public.
The finance ministry is responsible for making such recommendation to the king.
The Prime Minister Tshering Tobgay said, "The Pay Commission is being constituted and we will be submitting the nominations to His Majesty as required by the Constitution."
It is likely that the new commission will include secretaries from the Ministry of Finance, Ministry of Economic Affairs, a Parliamentarian, a private sector representative and other relevant experts and stakeholders.
The commission will recommend the salary rate after looking into house rent allowance, salary hike, current situation in terms of living costs, revenue situation, economic conditions, inflation, house rents, etc.
The commission would have three months to make the recommendations.
The PDP had pledged 20 percent increased incentives to the government employees which means additional Nu 1.7 billion burden for the state treasury.