Bhutan and Thailand to sign trade agreement during PM Tobgay's visit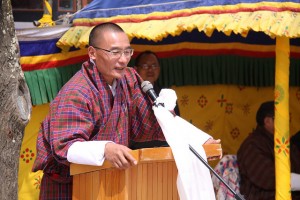 In his first maiden foreign visit outside India, Prime Minister Tshering Tobgay is all set to travel to Thailand from November 13. The high level delegation is expected to boost economic and cultural relations between the two Buddhist nations.
Thai ministerial cabinet has approved a draft of the Thai-Bhutanese trade and economic cooperation agreement on Tuesday (November 12), which is hoped to forge comprehensive economic partnership between the two countries.
The agreement is expected to be signed by commerce minister between the two countries or their representatives.
The agreement covers the cooperation between the countries in various issues such as trade, investment, tourism, construction, healthcare, energy, logistics and SMEs.
The agreement also seeks to exempt some products from import tax, such as temporarily imported products with no commercial value, tools or parts for assembly and repair and re-export products.
A joint trade committee will be formed to study the implementation of the agreement and consider expanding trade between Bhutan and Thailand.
Tobgay is visiting Thailand at the invitation of Yingluck Shinawatra, the Prime Minister of Thailand.
Tobgay is being accompanied by Economic Affairs Minister Norbu Wangchuk and other senior government officials. This will be the first official visit to Thailand by a Prime Minister of Bhutan.
Tobgay is scheduled to hold formal talks with Thai Prime Minister and meet with other senior officials of the country.
He will also be addressing a conference "Bangkok Dialogue on the Role of Law: Investing in the Rule of Law, Justice and Security for the Post-2015 Development Agenda" on November 15, which will be attended many eminent leaders from around the world including the Secretary General of the United Nations, Ban Ki-Moon.