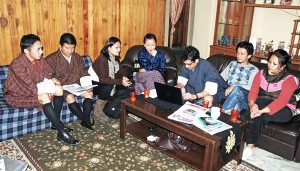 Few months ago, the first newspaper of the country Bhutan Observer announced to renounced its print edition. The reason was cited as increasing cost and decreasing revenue.
Now, the Registrar of Companies under the Ministry of Economic Affairs has issued notification for deregistering The Journalist newspaper.
According to the notice issued by the ministry, the paper will be deregistered from January 27, 2014.
Along with The Journalist, the ministry notice says three other companies will also be deregistered. They are Sherub Institute of Learning Private Limited, Khoche Dhaychhog Private Limited and Kuenleg Construction Enterprise Private Limited.
"Therefore, we would like to inform all that upon expiry of three months from the date of this notice, the name of this company will, unless cause is shown to the contrary, be struck off and the company shall stand dissolved as a defunct company," the notice reads.
This is practically the first death of a newspaper in the country.
The People Democratic Party (PDP) was advocate of state support for the private media when it was in opposition. However, the government has taken no steps in improving the financial condition of the private media since taking over the rein.
The Journalist was started in 2009 by a team of journalist led by Gopilal Acharya after defecting from The Bhutan Times. Acharya currently works with ICIMOD in Kathmandu.
The paper had set the vision to be an intelligent newspaper that enhances knowledge and democracy in Bhutan. It had also envision not to let businessmen invest in the the company to avoid any conflict of interests while publishing news.