Low voter turnout in by-election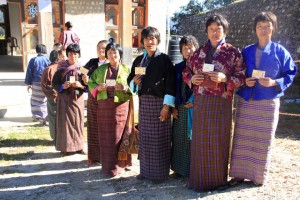 The by-election in Nanong-Shumar constituency in Pema Gatshel distruct saw a lower than expected voter turnout on Saturday (November 9).
As of 1 PM (local time) report, only 25 percent of the total 8,277 voters have exercised their adult franchise. More female voters are turning up to cast their votes compared to males.
Shumar Gewog polling station saw the highest voter turn out till 1PM with 358 voters and the lowest in Woolagtang polling station with just 24 voters. The polling will close in next two hours after which vote counting begins. The postal ballot counting has completed by 3PM but results are yet to be declared.
The by-election as called after the former PM Jigmi Thinley resigned as Nanong-Shumar representative in August. His party faced unexpected loss in July election. The results of the bye-election are expected by late evening.