Bhutanese officials learn unique identification system in south India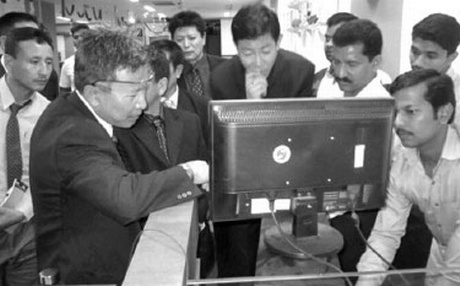 A 10-member Bhutanese delegation is in Kerala, South India to learn about issuing unique identification number to residents, which is called Aadhaar in India.
The delegation included Sonam Topgay, Director General, Department of Civil Registration and Census (DCRC), Ministry of Home and Cultural Affairs (MoHCA), Bhutan and Thinlay Wangchuk, Director General, Department of Immigration, MoHCA. The delegation had their interaction with officials and visited various centres gaining hands-on knowledge of the system, on Friday.
The Bhutanese delegation eyed Kerala after the Central Government informed that the process of Aadhaar enrolment and implementation is far ahead in Kerala compared to other states.
Aadhaar identification number in India is issued by Unique Identification Authority of India (UIDAI), attached to Planning Commission of the country, but currently has not legal or statutory authority.
The Bhutanese delegation visited Citizen Call Centre where the doubts and queries on Aadhaar are handled. For first hand information and analysis of the system, they later went to one of the Akshaya centres to see the Aadhaar enrolment process. They also had a glimpse of the Aadhaar mobile unit.
The delegates were also taken to one of the ration shops here which was included in the pre-pilot phase of PDS computerisation programme. The delegates were given a live demo of how Aadhaar authentication was carried out there.
The delegates held discussions with IT Secretary K S Sreenivas and later with Principal Secretary for Industries and IT P H Kurien.
The Bhutanese team later left for Bangalore, where they are expected to visit the UIDAI Regional Office.