Exiled Bhutanese rally in camps on HR day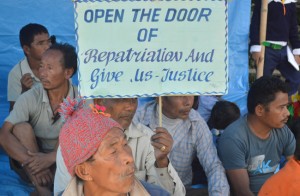 Exiled Bhutanese living in eastern Nepal have organised a silent demonstrations marking the International Day of Human Rights on Tuesday (December 10).
The demonstrators' rally, that went through the camps before converging into a mass, demanded they must be allowed to return to their ancestral homeland with dignity and honour and without any preconditions. They were displaying placards stressing the need for repatriation.
Coordinator of the demonstrator, who is also the camp secretary of Beldangi, Sancha Subba requested the international community to put pressure on Bhutan government for repatriation rather than opting for third country resettlement.
Dr Bhampa Rai, Harka Jung Subba and other front liners stressed that world must respect the rights of the exiled Bhutan for respectful repatriation.
Around eight thousand of the remaining exiled Bhutanese in camps have not shown interest for third country resettlement.