In Bhutan, Business and Happiness Don't Mix
By Vishal Arora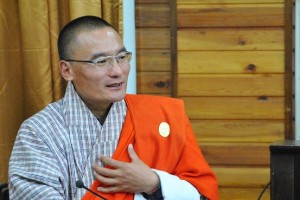 Say "Bhutan" and most people likely think happiness: The nation is the only one in the world to measure how happy its citizens are and to take account of the results in domestic policy.
Say "business in Bhutan" and the picture becomes far less rosy, according to the World Bank, which ranks the tiny South Asian country amongst the least business-friendly in the world.
Could there be a link between the two? Is the nation's pursuit of high gross national happiness damping its efforts to expand its gross domestic product.
Some in the country think it might be. Needrup Zangpo, the editor of the Bhutan Observer, told The Wall Street Journal in an interview in October that the private sector is small "because there's not enough impetus for growth from the government."
Asked if the happiness measure could be a reason the government has not been able to help the private sector to grow, Mr. Zangpo said, perhaps, because the gross national happiness policy views likely effects of business on factors such as people's stress levels, lifestyle and the nation's culture and tradition as more important than potential to make money and help the economy grow.
Bhutan ranks 141 out of 189 countries in the World Bank's 2014 "Doing Business" report, an assessment of how easy it is to conduct business in 189 economies based on their regulatory environment. Among South Asian counties, only Afghanistan is rated worse.
The tiny nation has carved out a distinct identity for itself. It imposes a national dress code during office hours and at public functions, and requires all buildings to conform to the national architecture.
Arguably out of a sense of geopolitical vulnerability, the country has sought to mark itself out from its giant neighbors, India and China.
Kuensel, a Bhutanese daily newspaper reported in October that inability to get loans, high tax rates and spiralling inflation shuttered businesses in industries such as manufacturing and steel. Stiff labor regulations and hard-to-get business licenses and permits were also blamed in the article for stifling business in the country.
The government is concerned, Prime Minister Tshering Tobgay said in an interview with The Wall Street Journal.
"If doing business in a large country is much easier than in Bhutan, we have to do some serious introspection," Mr. Tobgay said and acknowledged that his country was "perhaps excessive on regulation."
However, he said, the country's policy of measuring gross national happiness was not responsible for that. "Who wants to promote a business that destroys the culture or the environment?" he asked.
In fact, according to the prime minister, gross national happiness and businesses "can reinforce each other."
"We want to support the private sector to become competitive and productive," he said, adding that he was against introducing business subsidies to promote growth.
"We don't need to give entrepreneurs the run around," the prime minister said. "As a small country, we can do things that are impossible in large countries," he added
Coined in 1972 by Bhutan's fourth king, gross national happiness today refers to the nation's policy of balancing modernity with preservation of traditions, mostly by resisting laissez-faire development.
It is organized around four pillars – sustainable development, preservation of culture, environmental conservation and good governance – which seek to balance the material and the spiritual by resisting unbridled development.
After Bhutan transitioned to democratic rule from an absolute monarchy in 2008, the nation's planning authority was renamed the gross national happiness commission and designed to ensure that happiness was taken firmly into account in all policies.
The commission uses gross national happiness as so-called screening tools to assess how a policy would affect society in terms of its impact on stress-levels, culture and physical exercise.
The commission's secretary, Karma Tshiteem, said that the tools are only for policies, and do not directly influence business. They guide the rules that the government makes for the private sector, he said.
The emphasis on gross national happiness is seen in pretty much every industry in Bhutan.
In tourism, the government charges a daily tax of $200 a visitor in low season and $250 in high season, to restrict the number of foreign visitors to the country, Indians, Bangladeshis and Maldivians however are exempt from this charge.
Sale and production of tobacco products are banned. The Constitution states that 60% of the country's land area must have forest cover, and successive governments have raised the bar to 70%.
The high-investment mining and hydropower sectors remain closed to foreign direct investment, and those sectors which do allow FDI, such as five-star hotels and resorts, organic farming and agriculture, have a high threshold for minimum investment.
Apart from regulation, the landlocked Himalayan nation has a few other limitations when it comes to encouraging business growth. It has transportation problems because of its hilly and rugged mountainous regions, with no railways or direct access to ports.
Almost two thirds (64%) of its 700,000-strong population live in rural areas, but only 8% of the land is fit for cultivation: Around 70% of the population rely on agriculture for their livelihood.
Economic Affairs Minister Norbu Wangchuk said that the weak businesses environment could be attributed to the nation's focus on happiness. But that's a conscious decision, he said.
"We have made a deliberate and informed choice of the kind of development we will pursue," Mr. Wangchuk said.
A blinkered focus on gross domestic product did not lead to increased well-being among the populations of countries which employed such a strategy, he argued.
"It has created economic, financial and ecological crises and climate change, unemployment and poverty," the minister said.
If Bhutan were to allow extensive mining and extraction of forest resources, it "would immediately give us a double digit growth in the GDP," Mr. Wangchuk added. "But this is the path we have determined not to take."
Bhutan is paying a huge price for that choice, he said, and pointed to "an enormous number of youth who are unemployed."
The country does not have a support mechanism for its businesses, "because the world has a different kind of a business model, trading arrangement and market structure," he added.
However, the gross national happiness policy is not anti-business as such, Mr. Wangchuk argued. "It challenges businesses to be innovative and creative, to respect environment, identity and culture," he said.
Asked if Buddhism – followed by 80% of Bhutan's population – is also a factor in the nation's cautious approach in business, Mr. Wangchuk said the philosophy is based on the Buddhist concept of interdependence. "Individualistic self-motive gets subsumed by the common, general good and that comes from a firm belief that everybody is interrelated," he added. "Pollutants in Shanghai, New York and New Delhi would melt our glaciers, causing flooding here," he said.
The minister claimed that many economies, scholars and leaders are looking at the gross national happiness model, "and that affirms to us that perhaps we are on the right track."
In 2014, Bhutan plans to host a conference of world leaders aimed at developing new gross national happiness-based agreement to rival the GDP-centric Bretton Woods Agreement, which established the rules for commercial and financial relations among the world's major industrial states in the mid-20th century.