WHO regional director on farewell visit to Bhutan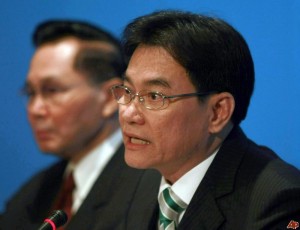 Dr Samlee Plianbangchang, Regional Director of WHO South East Asia Region is currently in a farewell visit to Bhutan (December 1-4).
Dr Samlee began his WHO career as a Medical Officer in Bhutan in 1984 following which he held several high-level positions at WHO. In January 2014, he will retire after 10 years as the Regional Director.
Under Dr Samlee's leadership, WHO has worked closely with the Ministry of Health, Bhutan, contributing to several milestones in public health in Bhutan. His work in the 1980s with the primary health care project in Mongar laid the foundations for a strong primary health care system in Bhutan.As Regional Director of the WHO South-East Asia Region, he supported the development of the National Health Policy for Bhutan, which has shaped health-sector development in Bhutan.
Dr Samlee has consistently supported institutional capacity development for the health sector, including the Royal Institute of Health Sciences, the Public Health Laboratory and the Institute of Traditional Medicine. He was also instrumental in supporting to establish the first graduate degree programmes in health in Bhutan –the BSc in Public Health and the BSc in Nursing.
Under Dr Samlee's leadership, WHO's collaborative programme in Bhutan has extended to cover a wide range of health programmes, including the prevention and control of communicable and non communicable diseases, maternal and child health, health promotion, traditional medicine, and telemedicine services, as well measures to address determinants that impact health, such as nutrition, water and sanitation, climate change and disaster preparedness and response. His support for capacity development of human resources for health has resulted in several health staff benefitting from international Masters and Bachelors programmes, as well as training courses in the areas of clinical medicine and public health, including programme management and development.
During his visit, Dr Samlee will be calling on the Prime Minister Tshering Tobgay, Foreign Minister Rinzin Dorji, Health Minister Tandin Wangchuk and senior officials of Ministry of Health. He will also be addressing at Royal Institute of Health Sciences.