ADB opens a new office in Bhutan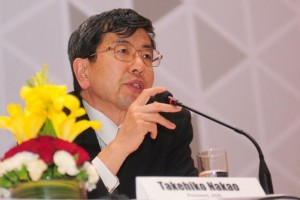 Asian Development Bank (ADB) President Takehiko Nakao has said ADB is committed to working closely with Bhutan's government and its people and ongoing efforts to broaden the economy should be strengthened.
He was speaking at the inauguration of ADB office in Bhutan. It was his first visit to Bhutan as ADB President. During his one-day trip Mr. Nakao met with Prime Minister Tshering Tobgay and Finance Minister and ADB Governor Namgay Dorji and discussed economic and development prospects and ADB's support for the country.
He noted that Bhutan has enjoyed high economic growth and made "remarkable progress" in reducing poverty and achieving the Millennium Development Goals. However, he also pointed to the need for more work to help Bhutan diversify its economy, develop its private sector, and tackle youth unemployment.
At the office opening he launched a new ADB publication, , to celebrate joint ADB-Bhutan efforts to promote inclusive and sustainable development.
Mr. Nakao also travelled to view urban roads and water storage tanks that are part of ADB's Urban Infrastructure Development Project. The 30 million project aims to help ensure sustainable development of two of Bhutan's largest municipalities – Phuentsholing and Thimphu – and one regional center, Dagana. The project is working to expand water supply, drainage and sanitation, improve urban roads, and strengthen urban management.
Bhutan has been a member of ADB since 1982. Since starting operations in Bhutan, ADB has provided around 340 million in loans and 140 million in grants to support development. Key projects have included rural electrification, power sector reforms, roads, and urban infrastructure.
ADB is also supporting hydropower development in Bhutan including the 126-megawatt Dagachhu hydropower plant which will send 500,000 megawatt hours of electricity to India, helping to alleviate power shortages there and generate key export revenue for Bhutan. The plant was the first cross-border project earn carbon credits under the Kyoto Protocol's Clean Development Mechanism.