JICA supports Bhutan to prepare for GLOF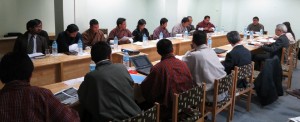 Japan's development support agency JICA continues to support Bhutan's effort to increase the human resources and better management of the Glacial Lake Outburst Flood (GLOF).
The first Joint Coordinating Committee meeting of the project "Capacity Development of GLOF and Rainstorm Flood Forecasting and Warning in the Kingdom of Bhutan (2013-2016)" was recently held.
The meeting reviewed the progress of the project and approved the work plan for next three years. The meeting also endorsed the location of rainstorm and GLOF Early Warning System (EWS) monitoring sites and facilities on Mangdechhu and Chamkharchhu sub-basins and technical specifications of EWS equipment and facilities.
The meeting also deliberated on land acquisition formalities and communication system to be used for dissemination of EWS.
Under the Technical Cooperation Project (TCP), JCC has authority to make adjustment and modification of the project activities during the course of implementation of the project.