Another episode of 'Mountain Echoes' scheduled for May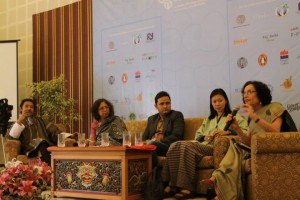 The approach of spring season means its time for another episode of literature festival in Bhutan.
Come this May, Bhutan will be hosting yet another episode of 'Mountain Echoes' the annual festival of literature in Thimphu.
The three-day festival beginning May 22, is an initiative of the India-Bhutan foundation in association with Siyahi and Usha international.
This season, the festival will see literary figures like Advaita Kala, Alka Pandey, Ani Kinley Anuja Chauhan, Arshia Sattar, Ashok Vajpeyi, Christopher C Doyle, Dago Tshering, Damchu Llendup, Kinley Dorji, Dipankar Gupta, Dolma C Roder, Dorji Gyeltshen Shejun, Dr Lopen Karma Phuntsho, Florence Noiville, Gavin Francis, Ira Pande, Karma Choden, Karma Tenzin 'Yongba', Kesang Chuki Dorjee, Kjell Ola Dahl and Kunzang Choden as the speakers of the event.
Other speakers include Lily Wangchuk, Lopen Lungtaen Gyatso Malvika Singh, Manju Wakhley, Marie Veno Thesbjerg, Namgay Zam Navtej Sarna, Passang Passu Tshering, Pavan K Varma, Pramod Kumar KG, Rashna Imhasly Gandhy, Rebecca Pradhan Robert Yeo, Sangay Wangchuk, Siddharth Shriram, Siok Sian Dorji, Somnath Batabyal, Sonam Jatso, Sonam Kinga, Sonam Wangchuk, Sonia Khurana, Sujeev Shakya, Tang Gup Thinley Namgyel Tashi Chewang, Tashi Gyeltshen, Umesh Anand, Yeshey Dorji and Yoko Ishigami
Queen Mother Ashi Dorji Wangmo Wangchuck is event's chief patron while Namita Gokhale, Pramod Kumar KG, Kunzang Choden and Siok Sinai Dorji are the Festival Directors.
This season's sessions will cover subjects such as Popular Fiction, Democracy and Civil Society, Travel and Cities, Human Animal Conflict, Animist Beliefs, Crime and Thriller Writing.
A series of films are also set to be screened some of them include 'Bhutan Women Forward' by Kesang Chuki Dorjee, 'The Red Door' by Tashi Gyeltshen, 'Finding Happiness' by Ted Nicolaou and 'The Yak Herder's Son' by Tshering Tempa.
Exhibitions are also set to be an integral part of the festival. They include Bhutanese Textiles in High Fashion Thagzo, the Textile Weaves of Bhutan and Contemporary Bhutanese and Japanese Art.
Performances by Bhutanese bands like The Baby Boomers, The Daydream Farmers, Poisoned Apple and Zhaw as well as open Mic sessions, Music at Mojo Park, Workshops on Crime Writing, Haute Cuisine, Leadership and Dream Interpretation are the other activities lined up during the festival.
For more details, visit www.mountainechoes.org for connect them through Facebook