Bhutan requests Nepal to revise air service agreement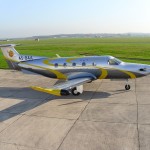 Bhutan has requested Nepal for revision of the Air Service Agreement between the two country. The proposal is now in Nepal's cabinet seeking approval for revision.
Bhutan sent request for agreement revision after the country's first private airline Tashi Air (also known as Bhutan Airlines) unveiled plan to connect Nepal via air service. Bhutan and Nepal had signed the ASA in February 2004, allowing Bhutan's national flag carrier—Druk Air—to operate seven flights per week between Paro and Kathmandu. Being a 'sing designation' agreement, only Buddha air from Nepal is allowed to fly to Bhutan.
During needs and emergency, Bhutan hires Buddha Air for services.
Bhutan's request has basically two major agendas—providing multiple designations and increasing flight frequency between the two countries. Agreement talks and other arrangements will go ahead once Nep[al's cabinet approves the request.
Tashi Air was launched on December 4, 2011 but was disrupted for a while after six months and re-launched recently. The airline is a subsidiary of Tashi Group. The airline made its first international flights to India and Thailand on October 10, 2013.
The airline has adopted aggressive marketing in various destinations and its interest to connect Kathmandu is to get Chinese tourists to Bhutan.
Buddha Air, on August 23, 2010, had launched commercial flights to Paro with its 18-seater Beechcraft 1900D and became the first international airline to enter Bhutan. However, due to some technical problems, it was forced to cancel its schedule.