Bhutanese community in Nebraska elect new leaders
By Karna Gurung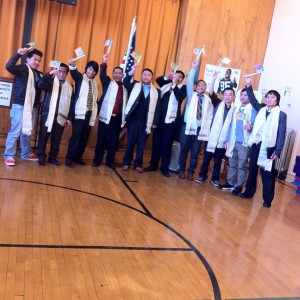 Bhutanese in Nebraska voted in an election electing new team of community leaders on 8 March. Bhim Gurung has been elected as the new president of Bhutanese Community in Nebraska (BCN).
Similarly, Krishna Subba has been elected as vice president, Suraj Rai as General Secretary, Bikas Biswa as Press and Publicity Secretary, Amir Gurung as Games and Sports Secretary,Purna Rai as Cultural Secretary and Jit Subba as the new Treasurer of the organisation.
Tul Rai is new youth Coordinator and Prem Magar is head of the community management committee. Education Secretary and Literature & Art Secretary will be nominated by the present Executive Board.
Nominated BCN Board of Trustees include Kumar Gurung, Durga Biswa, Govin Magar, Sree Raj Gurung, Gopal Thapa, Karna Gurung, Phurba Tamang, Yogen Bhujel, Dipak Karki, Mangal Rai, Chandra Kala Rai, Raju Subba and T. N. Gurung. Board of Trustees is formed to give support to the newly formed BCN executive board.
Community Management Committee chief Prem Magar will form a new committee to solve the community issues and services.
Newly elected BCN president said that his newly elected Executive team will work for the community development, work with youths, students and religious group to lead community to further progression. He said he will complete some of the task left or not-completed by previous executive board.
BCN's founding member Kumar Gurung expressed happiness for the support community organisation received from religious, youths group, students and other members of the community in holding a successful election. He expressed hope that the community will continue to work in unity under the new leadership.
Former president of BCN Durga Biswa updated the progress of the community made during his tenure 2012-2014. He said he is very exited to see youths coming forward to lead the community. He also said BCN was successful in opening community office, support employment, give primary support to newly arrived families and vulnerable families.