Khandu replaces Pradhan as chairman of DHI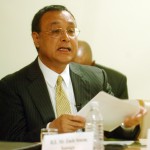 Om Pradhan has finally left the Druk Holding and Investment (DHI), the holding company of the Bhutan government and tightly controlled by the royal family, after serving two terms.
Pradhan will be replaced by Sangay Khandu as the new chairperson of DHI. Khandu was secretary of National Land Commission before being appointed as the new chairman of the DHI.
Khandu has been appointed as new chairperson in appreciation to his support for the current government and the royal family in destabilising the Education City project started by Jigmi Thinley.
Pradhan was appointed as chairman in October 2007 when the king announced the formation of DHI with objective to capitalise the growing businesses in infrastructures and trades.
Khandu and Pradhan had bad terms since Khandu exercised his power to destabilise one of the DHI projects Education City. It is also interesting to note that King Jigme Singye's favourite Pradhan is being replaced by King Jigme Khesar's favourite Khandu.
That's what had happened in last year's election as well. Is there any links here?
Also listen to Dawai Kudroen with Saygay Khandu below