Officials trained to address Bird Flu outbreak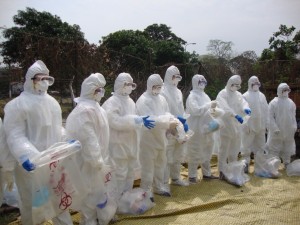 Some 80 officials from Department of Livestock, Department of Health, Disaster Management, BAFRA and the Royal Bhutan Police completed an eight day training on bird flu.
The training conducted in southern town Phuentsholing was meant to equip the officials with more skills in combating Bird Flu.
Addressing the training, the Director for the Department of Livestock, Dr. Tashi Samdup, highlighted the bird flu threats to mankind and how important it is to understand the real situation and act accordingly. He also stressed on the importance of the One Health Concept and multi-sectoral approaches for successful containment of bird flu outbreaks.
One of the important highlights of the training was the simulation exercises covering real scenarios. The simulation based on the National Influenza Pandemic Preparedness Plan (NIPPP) and the Standard Operating Procedures included the demonstration on the proper usage of personal protective equipments (PPE), the activation of Incident Operation Centre and the team formation for disinfection, surveillance and health; usage of rapid test kit, and 3D (Depopulation, Disposal and Decontamination) were carried out practically to let them experience the real situation.
Besides, the participants were updated on the current status of bird flu (H5N1 and H7N9); revised NIPPP, various documents and disaster acts that can be looked upon during disease outbreaks along with various reporting formats.