Bhutanese envoy to Bahrain submits credentials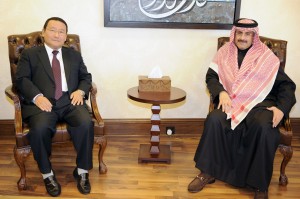 Bhutanese envoy to Bahrain Tashi Phuntsog presented his credentials to the Minister of State Ghanim Fadhl Al Buainain as the ambassador of Bhutan to the Kingdom of Bahrain.
Al Buainain welcomed the newly-appointed ambassador, lauding the bilateral relations between Bhutan and Bahrain. Phuntsog also discussed issues of common interest and joint coordination and cooperation with Buainain.
Tashi Phuntsog lauded the advanced level of bilateral relations and expressed desire to further boost these relations in all areas commensurate with common aspirations, Bahrain News Agency said.
Tashi Phuntsog is Bhutanese ambassador to Kuwait as well.