EU, Bangladeshi diplomats meet speaker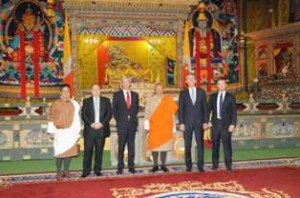 A five-member delegation led by Dr. Joan Cravinho, Ambassador of the EU to Bhutan, met with Speaker of National Assembly (NA) Jigme Zangpo on Wednesday morning (April 30).
According to NA statement, the delegation comprised of Bernhard Wrabetz, Ambassador of Austria, Piotr Klodkowski, Ambassador of Poland and Feilim Ferentinos, Ambassador of Ireland, to India.
Dr. Joan Cravinho expressed that the EU parliamentary delegation's visit to Bhutan last November was a success. In response, Speaker Zangpo expressed his gratitude to the European Union for tripling its assistance to Bhutan.
The delegation also met with the Leader of Opposition, Dr. Pema Gyamtsho today.
Similarly, the Ambassador of Bangladesh to Bhutan Jishnu Roy Choudhury called on Speaker Zangpo today.
The duo exchange hope that the growing cooperation in the field of trade and education between the two counties would be diversified.