Bhutan queen secretly visits Nepal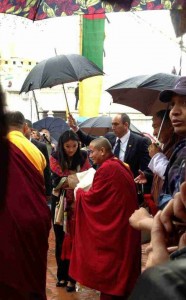 Queen Jetsum Pema secretly visited Buddhist shrine in Nepal on May 2 to pay tribute to the third King Jigme Dorji Wangchuk. It is learnt he returned on the same day.
Pema was in Boudha on the day, the birth anniversary of the third king. She was accompanied by Bhutanese ambassador to Nepal and India Major Gen V Namgyal and few others.
There aren't any officials statement from the Nepalese government or from Nepal's presidential palace regarding her visit to Nepal. Nepalese media remained unaware of her visit.
There aren't any statements from Bhutanese government or royal palace about this royal tour and was kept as family affairs.
The last Bhutanese royals visit was in 2003 when Queen Ashi Tshering Pem Wangchuk secretly visited Lumbini and remain as guest of King Gyandendra. The Bhutanese royals secretly visit Nepalese Buddhist shrines during the birth and death anniversaries of Third King Jigme Dorji Wangchuk.
The last official visit by Bhutanese royal family to Nepal was in 1997 when King Jigme Singye visited Halesi Mahadev in Khotang. Since then, there hasn't been any exchange of official visit by Nepalese and Bhutanese royal family members.