Fifth episode of Mountain echoes begins in Thimphu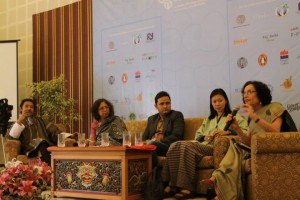 The fifth annual literature festival, better known as Mountain Echoes have begun in the Bhutanese capital Thimphu on Wednesday (21 May).
The festival celebrates the literature, art, culture and music of Bhutan and its neighbouring countries, mostly India.
The three-day festival promises to offer a balanced account of many myths, peek into Bhutan's textiles and soulful music, along with staple dose of democracy, crime and gender writing.
An initiative of the India-Bhutan Foundation, the festival is managed by Indian non-profit literature promotion group Siyahi with the support of Bhutan's queen mother Ashi Dorji Wangmo Wangchuck who is the chief royal patron of the festival.
The festival will host more than 50 speakers from South Asia and around the world who will speak on the subjects spread over different genres: from texture of mountain writing to environmental concerns; crime writing to concerns with democracy; popular fiction and gender writing to poems and plays.
Brainchild of programme directors Namita Gokhale – also a key person in the organisation of the Jaipur Literary Festival; Pramod Kumar K.G, managing director of a museum consulting company; Kunzang Choden, the first Bhutanese woman to write a novel in English and Siok Sian Dorji, a print and broadcast journalist – the festival fosters cultural diplomacy between two democratic nations.
Other speakers of the festival include Advaita Kala, author of "Almost Single", art curator Alka Pandey, Hindi writer Ashok Vajpeyi, writer and anthropologist Dolma C. Roder, sociologist Dipankar Gupta, academician Gavin Franc of "Long Exposure – The Camera at Udaipur, 1857-1957", Bhutanese author Lily Wangchuk, author-columnist-diplomat Navtej Sarna and filmmaker Tashi Gyeltshen.
Some of the interesting sessions that will give a peak into the Himalayan culture are: "Pema Lingpa Tradition" where Buddhist philosopher Ani Kinley and Dorji Gyeltshen will be in conversation with scholar and social worker Karma Phuntsho and trace life of the famous saint and "Pilgrimages and the Journey of Folk Literature" where speakers will connect the journey of holy walks with folklore.
Glimpses of Bhutanese life will reflect on the big screen through movie screenings and will throw life on the mundane life, their religious beliefs and role of the women in the Bhutanese society.
"Village on Treasure Hill", "Bhutan Women Forward" "Indian Roots of Tibetan Buddhism", "The Yak Herder's Son" are some of the films that will be screened during the festival.
Concerts by musical bands – Zhaw and the Ngorigaps, The Baby Boomers, Poisoned Apples and Daydream Farmers – will throw light on the lesser-known musical musings of the country.