World Bank VP meets PM Tobgay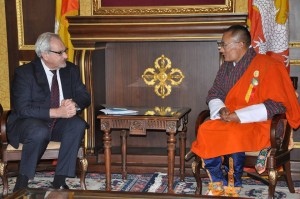 World Bank Vice President Mr. Philippe Le Houerou and bank delegation called on the Prime Minister Tshering Tobgay at the PM's office in Gyalyong Tshogkhang Tuesday afternoon (20 May).
Houreou told PM that Bhutan's progress and development over the years was remarkable and he was pleased to see Bhutan performing well. The vice president affirmed that the World Bank would strive toward building on the trust conferred to them and continue to work hard together in potential aspects of development.
The duo held a discussion on the importance of environmental management and shared concerns on the unpredictable future challenges if protection of the environment was taken for granted.
In response PM Tobgay asserted that the intense belief of the people on GNH required us to commit to safeguarding our environment.