Bringing a little of Bhutan into India
By Vaishna Roy
Bhutan's rulers exhibit a sense of belonging with their countrymen which beats the bullet-proofed arrogance of India's own leaders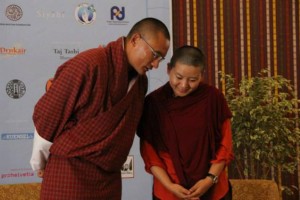 Prime Minister Narendra Modi has announced that he will visit Bhutan first, as he continues his outreach to SAARC nations. It has been easy for many of us to dismiss this little Himalayan kingdom as too unimportant in the overall, rather grand, scheme of things that India never ceases to imagine for herself. Of course, Mr. Modi has enough advisors to help him plan the big things. What would be nice, though, is a little bit of attention to some of the small things we could learn from our Bhutanese neighbours.
Greeting countrymen
A couple of weeks ago, I was on the Druk Air flight that was bringing Bhutanese Prime Minister Tshering Tobgay from Thimphu to New Delhi. He was on his way to attend the swearing-in of the Narendra Modi government. I was returning from the Indo-Bhutanese Literary Festival. The flight made a refuelling halt in Bagdogra. As we waited, chafing at the delay, I looked up to find Mr. Tobgay casually strolling down the aisle, greeting passengers on either side — his countrymen, Indians, other foreign tourists. He paused for a chat here, a smile or a handshake there. When he came alongside, I asked how long he planned to stay in New Delhi and he said, "Three nights. I say nights because that is how we count time in Bhutan."
A young Bhutanese man sitting across the aisle said something and Mr. Tobgay bent low to listen, then responded with an arm around the man's shoulder. On the walk back, he again patted this man reassuringly. A flight attendant needed to squeeze past, so the Prime Minister simply straightened up against the seats to make way, and then continued on his walk.
The entire exercise could not have taken more than 15 or 20 minutes but the aftertaste it left was incredibly sweet.
I cannot imagine an Indian Prime Minister, Chief Minister, even an ordinary MLA, taking the trouble to walk among their countrymen for an ordinary chat. And yet it is our country that has been a democracy since independence. Bhutan was a monarchy even six years ago, with a deeply hierarchical society and entrenched codes of protocol and etiquette that still continue. Yet, the simplicity with which the nation's rulers reach out from behind these barriers of procedure is something one wishes our leaders had.
On the second day of the fest, we were invited to a dinner by the queen mother Ashi Dorji Wangmo Wangchuck, where the Prime Minister, other Ministers and the Indian ambassador were also guests. When actor Waheeda Rahman came in, the queen mother moved forward to personally escort her to a table. Breaking off a conversation, she told me apologetically, "I am sure you will understand; Waheedaji is older and it's our tradition to take care of older people."
When I collared Mr. Tobgay for a chat, he was gracious enough to submit without the trappings of appointment or aide. He spoke sensitively and at length about how Bhutan was trying to balance Buddhism and burgers, technology and tradition — anomalies that are evident everywhere in his country. The Bhutanese dignitaries greeted and talked to visitors, important or otherwise. Sadly and perhaps predictably, the Indian ambassador did not once informally connect with his compatriots.
The Bhutanese are reverential to the royal family. They stand for as long as the queen mother stands; speakers bow deeply to her before they begin their talk. Yet, the previous day, this same woman, after addressing a group of school children in the tones of a worried mother (asking them to promise her they will read more) turned back suddenly to clasp a bunch of kids in an emotional group hug, as if she were a favourite aunt. Bhutan's rulers, both royal and democratic, exhibit a sense of belonging with their countrymen that might be viewed as paternal in one sense but which certainly beats the bullet-proofed arrogance of our own leaders.
Degrees of separation
Can you imagine the chaos that would ensue if we had to share an airplane with a Chief Minister? Besides possibly never reaching the airport because of blocked roads, the shared journey would be a living hell of humiliation, body checks, and a nauseous parade of the ruler's privileges. And before cynics say, "Oh it's a tiny country, it's easy for them," let's remember that we are just talking of a flight — same size of aircraft, same number of passengers.
And anyway, what about a small Indian town? Or even a city ward? Has a councillor or MLA ever walked a street or market informally? Just to talk to citizens? Even in London, where the underground railway can get as crowded as New Delhi's, Prime Minister David Cameron occasionally takes the Tube to work, accompanied only by a bodyguard. In India, though, our elected leaders brandish all the trappings of royalty that we imagine we had abolished along with Privy Purses.
Face time. Conversations. Reality checks. These are small things that can go a long way toward removing the several degrees of separation that exist between rulers and ruled in our country. I wonder: could the new, improved Mr. Modi bring a little bit of Bhutan into India?
vaishna.r@thehindu.co.in