Czech Republic delegations call on home minister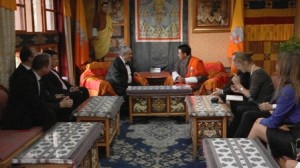 An eight-member Czech delegation led by Mr. Karel Schwarzenberg, Chairman of Foreign Affairs Committee of Czech Republic called on Home Minister Damcho Dorji on Friday afternoon (6 June).
The delegation comprised of Mr. Miloslava Stasek, Ambassador of the Czech Republic to Bhutan, Mr. Petr Gazdik, Vice Chairman of Chamber of Deputies, Mr. Pavel Holik, Vice Chairman of the CFA, Mr. Pavel Sramek, Vice Chairman of the CFA, Mr. Milan Sarapatka, Member of the CFA, Mrs. Zuzana Putnarova, Secretary of CFA and Mrs. Jana Peterkova, Third Secretary, Embassy of the Czech Republic, New Delhi.
The diplomatic meet focused on discussion on the several areas of possible co-operation between the two countries.