Tobgay hints 'no Chinese embassy' in Thimphu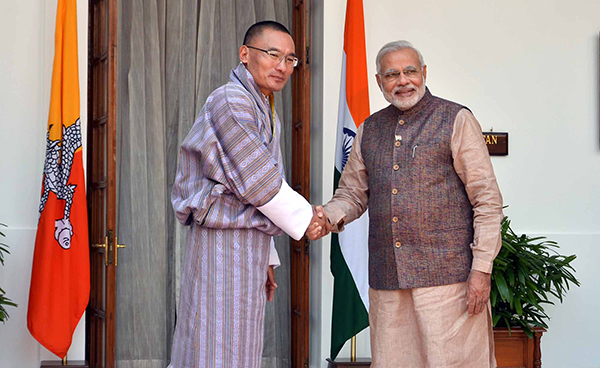 Prime Minister Tshering Tobgay has made all efforts to assure India that Bhutan would not step out of the Indian political grip in near future.
Talking to Indian television channel NDTV on Tuesday (17 June), the following day Indian Prime Minister Narendra Modi completed two day visit to the himalayan kingdom, PM Tobgay hinted his government would never allow opening Chinese embassy in Thimphu.
In his indirect answer, Tobgay said, Bhutan wants to resolve the border issue with China before taking any further steps.
He said, we don't have diplomatic relations with China without which opening embassy is impossible adding Bhutan's engagement with Bhutan is only with regard to border issue.
There have been concerns in India over China's attempts to establish diplomatic ties with Bhutan. Jigmi Thinley has been pushed out of the politics allegedly for meeting Chinese Premier in Brazil some years back.
India feel scared that China is trying to increase influence in Bhutan. However, on Monday (16 June), China rejected speculation of any competition with India for strategic space in the neighbourhood, affirming that it was both "happy" with Modi's visit to Bhutan and "full of confidence" over the future of relations with India.
A commentary in Chinese newspaper 'Global Times' last year accused India of influencing domestic elections in Bhutan and treating the country "like a protectorate" by withdrawing petroleum subsidies. The move was seen by some in Thimphu as a response to its warming ties with Beijing, although New Delhi rejected those suggestions.
"The withdrawal of subsidies before Bhutan's elections reflected that India never gives up its power politics where it doesn't need to," the commentary said, describing "Indian influence on Bhutan's elections" as "a tragedy for Thimphu".