Adelaide Dragon Red lifts runner up trophy in Sydney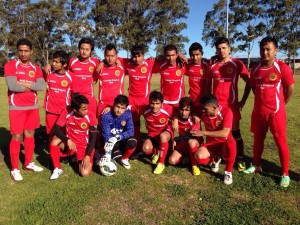 Adelaide Dragon lifted the runner up trophy of the third interstate soccer tournament that concluded in Sydney on Sunday (6 July).
Adelaide Dragon Red's Dhan Rai was declared the Man of the Match in the first match of the tournament, Sabin Bhattarai of the team received the trophy of Man of the Match in the second match they played while the team's keeper Chida Chouhan was given the best goal keeper trophy.
Bhattarai also scored the highest goals (8 goals) in the tournament and won the title of highest scorer.
Two teams from Adelaide (Adelaide Dragons Red and Blue) participated in the tournament.
Thanks coaches of both the teams, chairperson and sports coordinator for their valuable contribution to make this program success.
"We are grateful to HomeStart Finance for their valuable contribution towards soccer jerseys for both teams. We are also thankful to the Bhutanese community members, MRCSA, Minister for Multicultural Affairs Zoe Bettision, Salisbury Council, Mark and all other sponsors and donors for supporting us," BAASA mentioned in its statement.