SAFTA ministers agree on SAARC Bank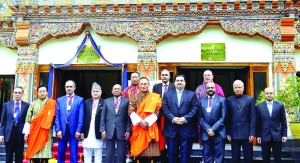 The commerce ministers of the South Asian Association of South Asia (SAARC) that conclude in Thimphu on Friday (25 July) agreed in principle to establish a regional development bank.
The proposal for SAARC Development Bank, put forth by India, received support of all the mamber countries – Bhutan, Nepal, Bangladesh, Pakistan, Sri Lanka, Afghanistan and Maldives.
The bank is envisioned to further enhance economic cooperation in the region for deeper regional integration.
It is also not known whether the existing SAARC Development Fund would be transformed into SAARC Development Bank.
The proposal will be further discussed during the 18th SAARC Summit scheduled to be held in Kathmandu in November this year.
During the ministerial meet, member countries also agreed to put issues such as regional investment promotion and protection and enhancing rail and road transport connectivity on the fast track. Member countries also agreed to provide their comments on recommendations laid by Regional Economic Integration Study (Phase II) prepared by the Asian Development Bank within September 15.
The next SAFTA ministerial council meeting would be held in Afghanistan in August 2015.