Senior refugees appeal India for repatriation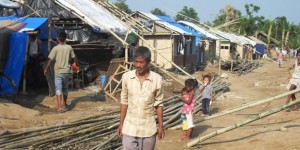 A committee of the senior members of the Bhutanese refugees have once again urged India to help them get back to their homeland and protect their right to return.
The appeal was sent to the Indian Foreign Minister Sushma Swaraj on the eve of her visit to Nepal. Swaraj is making three-day official visit from Friday (25 July).
The committee said, since Bhutan does not want to repatriate any of its citizens, India owes the moral responsibility to put diplomatic pressure for repatriation of those willing to go back. "There is no alternative to putting pressure on Bhutan to take back its citizens," the appeal said.
The appeal along with the signatures of the senior members of the Bhutanese refugees living in eastern Nepal was sent to Indian minister through Indian embassy in Nepal.
Committee member Santabit Ghale said Bhutanese refugees have been resettled in various western countries against their wishes. He said the donor community has concentrated primarily on resettlement ignoring the right to the refugees to return to their homeland.