PDP government claims successful year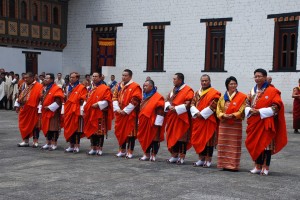 The latest meet the press of the government was concentrated on highlighting the achievements of the one-year old PDP government and to claim it was successful.
Prime Minister Tsheting Tobgay said, "On the democracy front I take a lot of satisfaction in assuming the role of the ruling party which has not gone on any witch hunt and not targeted any business person and civil servants accused of being political and has also not targeted any ex-MP."
He denied any government ministers or officials had threatened BBS or Kuensel reporters as reported in the media.
"Bhutanese democracy is not vindictive and divisive and there will be no witch hunting," the PM added.
He bought credit as success of his government for the completion of left over works of the tenth plan and beginning of eleventh plan. He claimed the economy has improved after the introduction of cost-cutting measures.
"The taxes were implemented for the sake of the economy but yet there were various segments of our society who went all out to undermine the government. I suppose that's okay as it is about a healthy check and balance even though many people were intent on purposely not presenting all sides of the argument," he said.
The Home Minister Damcho Dorji said that the prime minister's visit to India could secure a sizeable amount of Nu 45 bn for the eleventh plan and Nu 5 bn for the Economic Stimulus Plan (ESP).
The Finance Minister Namgay Dorji said the government immediately removed the ban on alcohol and furniture but vehicles took longer as taxation had to be imposed.
He said taxes on vehicles and fuel were correct the Current Account Deficit of the country.