The 'Rising East' rolls out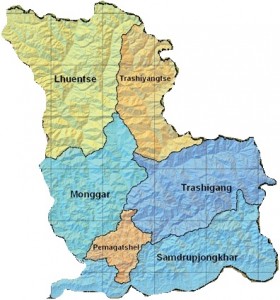 The Dorji-dominated Tobgay cabinet has approved the ambitious program of developing the eastern districts in a various national strategies.
The 30-page long 'East Development Initiative' (EDI) covers Lhuentse, Mongar, Trashigang, Trashiyangtse, Pemagatshel and Samdrup Jongkhar districts with the combined total population of about 201,050.
These initiatives are creating three regional growth hubs, improving accessibility and transport infrastructure, accelerating hydro power development, establishing premiere educational institutes, establishing agro based and green industries, improving tourism infrastructure, establishing referral hospitals and providing policy support. It supports the PDP's pledges of 'Rising East'.
The project has been unveiled with the initiatives of Minister of Works and Human Settlement (MoWHS) Dorji Choden, Minister for Economic Affairs Norbu Wangchuk, Minister for Agriculture Yeshey Dorji and Education Minister Mingbo Dukpa.
The EDI identifies three growth centers in Eastern Bhutan located at Kanglung, Gyalpoizhing and Nanglam.
There are sixteen hydro projects (107 MW Jomori, 473 MW Nyera Amari-I&II, 363 MW Khomachhu, and 64 MW Gamri-I and 79MW Gamri-II) with total capacity of about 6,200 MW in the eastern region.
EDI mentions investments requirements would range from $ 150 million to $ 700 million and hence within the conceivable investment targets.
The EDI prioritises the establishment of Nursing College in the East, which shall offer certificate, diploma and undergraduate programmes.
Developing tourism, improving agriculture and connecting east with road networks, communications and electricity are given highest priority.