ADB vice president calls on PM Tobgay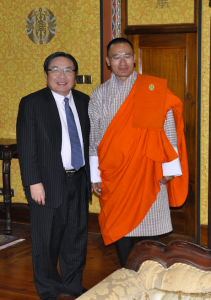 The Vice President, Operations 1 of South Asia Department, Central and West Asia Department of the Asian Development Bank (ADB) Wencai Zhang called on the Prime Minister Tshering Tobgay on Thursday.
During the meeting held at the parliament house building, PM Tobgay thanked him for ADB's involvement in enhancing and promoting socio-economic development of Bhutan. He said Bhutan has benefitted tremendously from ADB's support.
Zhang in response expressed his satisfaction in seeing Bhutan developing and working consistently toward achieving sustainable growth. He further affirmed that ADB would come up with more effective procedures which are conducive to changing needs, explore capacity building and stimulate progress by fighting poverty in the region.
The vice president assured that ADB will help Bhutan discover new opportunities, address future challenges and remain a reliable partner in all of Bhutan's development ventures.