Gelephu gets Bhutan's first cricket pitch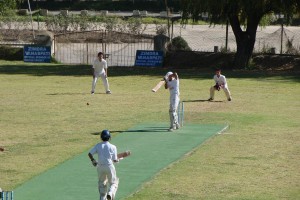 The cricket fever in Bhutan is gradually taking up with more youngsters showing interest in the sports and the government investing into this field.
A new full-sized ground at Gelephu (Gaylegphug) in southern Bhutan is in the planning stages giving hopes for cricket fans in the district. Asian Cricket Council (ACC), Bhutan government and private sector jointly funded this project planned since 2007.
Similarly, Bhutan Cricket Council Board Development Coach from Sri Lanka Shanaka Fernando has been appointed, and a fresh back of coaches has been created.
"Given their limited resources Bhutan has come a fair way already, there's potential there and this new ground will definitely help them prepare better for international events," says ACC Development Officer for Bhutan Rumesh Ratnayake, who visited the town this week.
Gelephu with little more than 10,000 people and moderate climate provides better environment for cricket than capital Thimphu.
The Gelephu ground will be Bhutan's first turf facility and over stages, will have indoor and outdoor nets, a pavilion and an academy building. Bhutan had to travel to Sri Lanka and Thailand to prepare for tournaments before.