Michigan wins interstate volleyball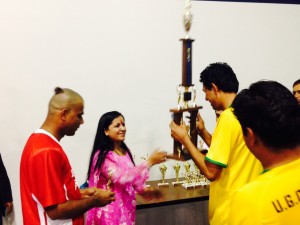 The Michigan team became the first team to lift the trophy of interstate Volleyball tournament organised by Bhutanese Nepalese Community of Columbus (BNCC) on Sunday (31 August), making Columbus Ohio "A" team runner up while Buffalo, New York lifted the second runner up trophy. Nine teams had participated the tournament with over 200 audience.
The winners received a cash award of US$1,000 along with Trophy, the runner up got US $700 with a trophy while second runner up received a trophy. According to organisers, Uttam Gurung from California had sponsored trophies for all participating teams and man of the tournament trophy.
Uday Mishra from Buffalo, New York became 'Man of the Tournament' and Kul Adhikari from Columbus Ohio was named 'Emerging Player of the Tournament'.
According to organisers, nine matches were played on the first day of league match and the second day saw 12 knockout matches including the final one.
While BNCC members volunteered to host the event, four former volleyball players from different states acted as referee.
This planned-annual tournament is scheduled to be held in Minnesota next year.
Contributed by Tara Acharya from Columbus, Ohio.