Bhutanese in Cairns celebrate Tihar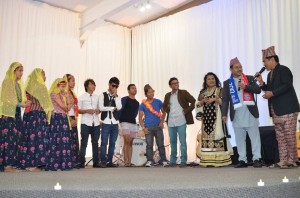 The Bhutanese in Cairns, QLD, Australia celebrated 2014 Tihar festival organising a grand cultural programme on October 25. The celebration showcased Bhutanese culture and tradition through dances, songs, skit and Bhai Teeka demonstration.
The programme started at 2:15 pm, 15 minutes later than slated. A canticle like song 'deep jalos ghara gharama' was sung by the members of Bhutanese Cultural Group' led by Kiran Biswa which marked start of the programme. Then the president of the Cairns Bhutanese Community Inc Tej Man Monger welcomed the audience. In his welcome remarks Monger said "22 years ago we chose to flee our country of origin but we could not do so with our culture". "We are about 700 in Cairns yet we speak several languages and we belong to several ethnic and cultural backgrounds. "The only thing we brought along when we came to Australia is our culture" said Monger acknowledging Cairns Council's grant that funded the celebration. He also asserted the Bhutanese culture is a culture of cultures among themselves where cultural and religious tolerances and social cohesion continuously prevail since times immemorial.
Among the performances, dances in songs like 'aakasai ko kalo badal' (maruni), 'suna bhana na' made the audience nostalgic to their homesteads in Bhutan whereas skit based on contemporary Bhutanese issue freshened them about their present circumstances. The celebration also entailed Bhai Teeka presentation which the organisers claimed that such item would educate the wider community on Bhutanese culture.
Local MP of Cairns region Gavin King expressed gratitude on being invited to the programme. "It is my pleasure to join wonderful people here today during such a wonderful festival celebration", said King "I look forward to being together with you all in future celebrations, too". He appreciated management of the event and energy put by the organising committee that made programme successful. Similarly, another guest speaker Hala Kattab, Multicultural Planning & Development Officer (LAMP) of Cairns Regional Council also appreciated the celebration. "I have been attending Bhutanese programmes but this time I found it different. Beautiful attire and beautiful people. Well managed and truly cultural moments" said she.
Extending vote of thanks the secretary thanked all audiences and individuals for their role to organise such a public event. He thanked Cairns Regional Council in particular for the approval of grant funding this programme. He also thanked all the agencies that rendered support and solidarity to help organise the event.
Some of the audiences cherished the organisers for having served Sel Roti and soft drinks as snacks. Estimated 300 audiences made to the programme. Jeevan Koirala had moderated the programme.