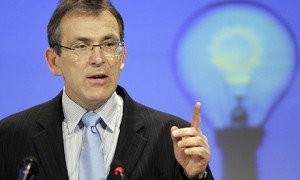 The European Union Commissioner for Development Andris Piebalgs arrived Thimphu on Tuesday (21 October) on a six day official visit. He is accompanied by Ambassador Joao Cravinho, Ambassador of the EU to Bhutan in New Delhi and other officials from the European Union Commission in Brussels, Belgium.
The European Union is tripling its bilateral assistance to Bhutan. EU will provide Euro 42 million assistance to Bhutan for the period 2014-2020 which will focus to strengthen civil society, local governance, and develop sustainable rural livelihood.
To this effect, Finance Minister Namgay Dorji and the Commissioner Piebalgs signed the EU Multi-annual Indicative Programmee (MIP) document on Wednesday.
While in the country, Commissioner Piebalgs will call on the Prime Minister, meet Cabinet Ministers and senior government officials.
He also inaugurates the first EU Film Festival on Tuesday and visited places of cultural interests.
Bhutan and the European Union established diplomatic relations in August 1985. Given the importance of the European Union (EU) and the RGOB's growing interaction with the member states of the EU, Bhutan opened its embassy in Brussels in May 2009.