New development agenda must be people-centred, Bhutan tells UN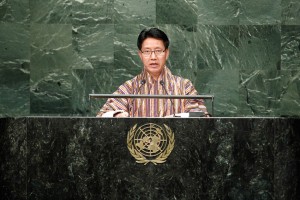 As the international community intensely debates on crafting a sustainable development framework, Bhutan's Minister of Human and Cultural Affairs Damcho Dorji told the United Nations on Tuesday that the new agenda will be truly transformative only if it is grounded in the real needs of countries and promotes meaningful change.
"This is an opportune moment to define a new era in international development and cooperation – one builds on the successes and shortcomings of more than three decades of internationally agreed development goals, and the Millennium Development Goals in particular," Dorji told the General Assembly on the last day of its annual General Debate segment.
He said that the post-2015 process must activate real and meaningful change for all countries if it is indeed to be transformative. And for that to happen, the new development agenda "must be anchored on the need for breakthroughs to address the hard ground realities of different countries, especially with regard to capacity and financing for development."
As such, Mr. Dorji continued, a collaborative approach based on an appreciation of the unique circumstances and experience of each country and driven by the desire for true working partnerships among and within countries will be vital.
"Such an approach would require changes in our development paradigm, in our very beliefs on the sustainability of the current trajectory of our world and in our behaviour as individuals, which consequently shape our character as a nation and our destiny as an international community of nations," he said.
For a small, least developed and landlocked country like Bhutan, with many indicators below the ideal, "we have to get our development priorities right," Mr. Dorji said, adding that given his country's small size and unique circumstances, the lessons Bhutan has learned are not universal but may have relevance for other nations, including its promotion of a home-grown, people-centred development, with people's welfare and happiness a main objective. Bhutan also promoted good governance, encouraged strong partnerships and encouraged environmental protection.