Queen mother visits girls school in Victoria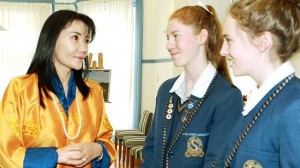 Bhutan's Queen mother Sangay Choden Wangchuck visited Shelford Girls' Grammar School in Caulfield, south of Melbourne on Wednesday (29 October). Shelford Girls' Grammar is an independent, Anglican, day school for girls, located in Caulfield, Victoria. Established in 1898, the school currently caters for approximately 600 students from pre-school to year 12.
The Queen Mother is in Australia to help raise funds, in partnership with The Australian Himalayan Foundation, for women and girls from remote and impoverished parts of Bhutan.
She is the patron for Foundation's program that helps women and girls in Bhutan access quality education and work.
Shelford is the only Victorian school the Queen Mother visited and the school said her work championing the importance of girls' education aligned with the school's values.