Temporary halt of hiring foreign workers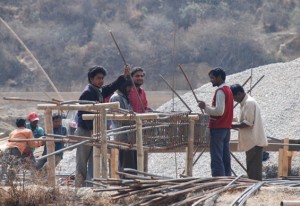 Bhutan government has issued notice saying hiring of foreign workers would be temporarily in first week of November in selected districts.
A notice issued by the Ministry of Labour and Human Resources says, "This is to for the kind information of the general public that approvals of work permits for foreign workers shall be temporarily stopped from November 1-8, 2014 for Gasa, Wangdue Phodrang (including PHPA I & II), Punakha, Chukha, Thimphu, Paro and Haa Dzongkhag."
"The employers including PHPA I & II and Mangdechu Project Authority are requested to plan the movements of foreign workers to their worksites accordingly as entry of foreign workers from Phuentsholing shall be stopped from November 1-8, 2014," it further reads.
The employers of Thimphu and Paro have also been requested to ensure that all foreign workers engaged by them are present at their work sites and not elsewhere on November 7 and 8.
The government has not mentioned anything about the reasons for such temporary halt.