This Winter's Hot Destination?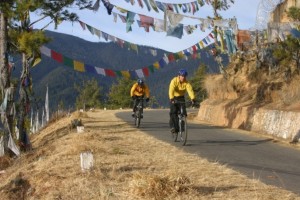 By Larry Olmsted
There are a lot of good reasons why someone might visit the Kingdom of Bhutan – but now there are more than ever.
The only Buddhist nation on earth, Bhutan famously measures its success not with gross domestic product, like most countries, but rather with gross national happiness. Perhaps not surprisingly, a past Business Week poll found it the happiest country in Asia. From a visitor's perspective, its highlights are natural, scenic and cultural, as Bhutan occupies the highest mountain range on earth, the Himalayas, is known for its iconic high altitude monasteries, clinging to cliffs in architectural splendor, and its welcoming people. It was the world's first country to write environmental protection into its constitution, and mandates that at least 60% of the terrain remain covered in forest. About the size of Switzerland, and similarly landlocked and mountainous, it does not have one single traffic light. In another unique twist, Bhutan had an exceptionally peaceful transition of power when the King gave up much of his power and transferred the nation to a constitutional monarchy in 2008.
The emphasis is on outdoor activity, from moderate to strenuous, since many go to trek, mountain bike, ride horses or simply explore a fairly rugged countryside. To help do this, there is no shortage of adventure focused luxury hotels, but two brands in particular stand out, because both offer something you will find in very few places: multiple locations within the off the beaten path country. This allows them to sell turnkey packages with transfers and activities that let visitors easily experience the width and breadth of the country without sacrificing first rate food and lodging. These are Aman Resorts, renowned for top shelf boutique hotels with a pronounced sense of place worldwide, and Como Resorts, whose luxe offerings run a wider gamut, from urban hotels like the Metropolitan in London to tony celebrity loved Parrot Cay, a private island resort in the Turks & Caicos.
Bhutan has increasingly been on the radar of the traveler who has been there and done that around the world, but now it is offering something new: the first ever full-blown Bhutan International Festival, spanning ten days in February. This includes a couple of components that existed before, such as the second Bhutan Marathon and the third annual Bhutan TEDx, an independent and more local version of the famously thought provoking non-profit Technology, Education and Design (TED) conference. The fitting TEDx theme for 2015? "Is Happiness All It's Cracked Up to Be?" with expert speakers from around the world.
The Festival combines several other new and overlapping weeklong elements, all in their first year, including the Bhutan International Film Festival; Himalayan Regional Arts Festival; and Thimpu International Music Festival, plus TEDx, TEDx Youth, the Marathon and Half Marathon (100% of race profits to go to Bhutan's Youth & Olympic Sports Program). Spanning February 14-23, 2015 it also occurs during the same week as two important – and celebratory – national holidays, Lunar New Year and the King's Birthday.
While the individual events are run by different organizers, such as the film festival being put on by acclaimed outdoor and adventure specialist Mountain Film, a prominent festival series based in Telluride, Colorado, the elements have been pulled together in large part by festival chairman James Fitzgerald, an American businessman with numerous interests in Bhutan. He splits his time between the capital of Thimpu and New York City and has been active in Bhutan since 2007. "I went to the first marathon last year, and about half the attendees were foreign, and it occurred to me that with the holidays in Bhutan and the winter break in the West, this was a perfect time for an international event. People think of the Himalayas as cold and snowy, but it is quite nice in February, especially in the capital, which sits at a much lower altitude. Every event except the marathon is right in Thimpu, so it's very easy, and we structured it so that there are lots of possible excursions, both day and overnight. People can attend the festival and also still see the many sights across the country, the monasteries and countryside."
Because it did not want to become another Kathmandu, an epicenter for cheap overdeveloped tourism, Bhutan is one of the only nations on earth that strictly limits annual visitation (about 100,000 last year), requires visitors to pre-buy tourism packages, and also to meet a minimum daily spending requirement. That being said, it's much easier than it sounds. Visitors have to work with a licensed tour operator, and the Festival has an official partner (as well as international flight discounts with festival partner Virgin), but you can also go through your travel agent or one of the luxury hotels chains, which have the paperwork and logistics down pat. "There is a minimum of $250 per day spending required, but you get a lot for that," said Fitzgerald, and that includes lodging so it's easy to meet. "Once you get there, things are very inexpensive, food, the events, everything." It has also become easier than ever to get to Bhutan in the past year, with the addition of a second carrier, private Bhutan Airlines, joining government affiliated Druk Air. Gateways now include Delhi, Mumbai, Singapore, Kathmandu and Bangkok.
"Bhutan is a place like no other – and a place from which we have much to learn," said Fitzgerald. "A remote kingdom at the top of the world in the southeast Himalayas – it's like entering a magical lost world, like stepping back in time. It has meticulously preserved traditional architecture, incredible unspoiled landscapes, and friendly inquisitive people who still dress and act as they did centuries ago."