Assam's Buddhist delegation to Bhutan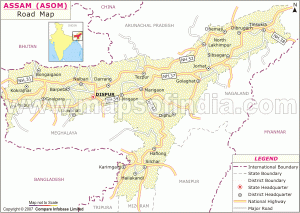 Assam makes efforts to build trust with the northern neighbour Bhutan, though conflicts remain on issues of water uses and flooding.
Assam is sending a six-member Buddhist good-will delegation to Bhutan next week in an effort to warm up relations.
Led by Buddhist scholar Prof Dr Lalit Shyam, chief adviser and ex-president, All Assam Buddhist Association, Regional Centre of the World Fellowship of Buddhists (affiliated to UNESCO) will visit Bhutan from November 12 to 18 on the invitation of Lama Dophu Namgyal, president of DKCSC Trust, Thimphu.
The delegation will visit different Buddhist centres, monasteries, educational, cultural and historical places of Thimphu, Paro and other places of Bhutan and study and research Buddhist art and culture, tradition, heritage, sculptures, architectures etc of Bhutan.
The delegation will meet with King Jigme Khesar, Queen Jetsum Pema, Rimpoches, Lamas, scholars, educationists and diplomates of Bhutan and extend best wishes and greetings, warm regards to them on behalf of the Assamese and Buddhist people of Assam.