Include Bhutanese refugee issues in SAARC agenda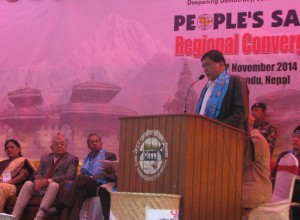 N. B. Giri, Bhutanese refugee activist urged the SAARC to include Bhutanese refugee issues in upcoming SAARC summit agenda. He was addressing the opening session of People's SAARC regional convergence which kick off today at Kathmandu, Nepal. The PSAARC will end on 24 November with the declarations.
"A Bhutanese refugee issue is the neglected issues in South Asian. Over 90% Bhutanese refugee population in Nepal is resettled overseas and those remaining refugee must be allowed to return back to Bhutan in honor and dignity. The integration of exile political parties is must to usher genuine democracy in Bhutan. Include Bhutanese refugee as agenda in upcoming SAARC summit and put pressure on the government of Bhutan to give justice to Bhutanese refugees," Giri said.
Bhamdev Gautam, Deputy Prime Minister of Nepal, was the Chief Guest at the convergence.
PSAARC is the gathering of people from all walks of life representing the eight member states of South Asian Association for Regional Cooperation. It is a forum to foster cooperation, solidarity and action at the people-to-people level in south Asian region. Over seven thousand people had gathered to participate in PSAARC regional convergence.
Pema Tendzin, Tom Adhikari, Kamal Prasad Koriala and Karma Duptho were other Bhutanese delegates at the convergence.