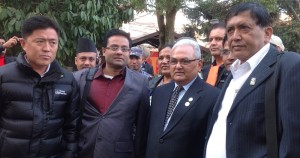 The People's SAARC, the gathering of the rights activists from SAARC member states, ahead of the SAARC summit has conclude in Kathmandu on Monday.
At the end of the three-day People's SAARC convergence, Tom Adhikari along with the exiled Bhutanese delegation on behalf of the entire Bhutanese Community in exile requested the Foreign Minister of Nepal Mahendra Bahadur Pandey to seriously take up the Bhutanese Refugee Issue with the Royal Government of Bhutan during the upcoming SAARC Summit to be held at Kathmandu, Nepal.
The Foreign Minister Pandey was present at the closing session of People's SAARC. He received the declarations of Peoples SAARC convergence from Dr. Sharba Raj Khardka (Convener, drafting declaration committee), and Sharmila Karki, Convener, People's SAARC organizing Committee.