Tobgay – the most undiplomatic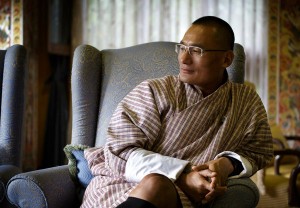 At a meeting with the Nepalese Prime Minister Sushil Koirala on the sidelines of SAARC summit in Kathmandu, Prime Minister Tshering Tobgay projected himself to be the least diplomatic of all Bhutanese leaders who led the government so far.
Koirala urged his Bhutanese counterpart to repatriate Bhutanese refugees who remain in camps after the resettlement.
Unlike the previous Bhutanese prime ministers, Tobgay put it straight and ask Koirala not to raise the issue again with Bhutanese government.
"They are all genuine Bhutanese citizens. You must create environment for their repatriation," Koirala requested Tobgay. In response, Tobgay said, "They are being resettled in western countries."
It was first time Tobgay met with Nepalese leader and encountered issue of Bhutanese refugee. Tobgay is known for his hardline against the refugees.
Koirala responded Tobgay that Nepal-Bhutan relations will never improve unless Bhutan agrees to take back Bhutanese refugees who are willing to go back.