Bhutanese Community in Australia elects new executives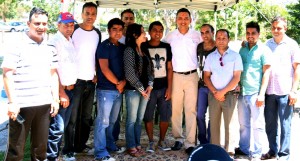 Bhutanese Community in Australia Inc. (based in Victoria) elected new executive committee members at an Annual General Meeting (AGM) held on Sunday (28 December) at Jack Roper Reserve.
Khara Acharya has been elected as president while Tila Guragai has been elected as vice president of the new organisation. Similarly, Jima Dhimal, Devi Ghimire and Roshni Chhetri Kharel has been elected as Treasurer, General Secretary and Joint Secretary respectively.
Similarly Tek Majhi, Khem Koirala, Dhan Siwakoti, Gana Adhikari, Shiva Regmi and Ganga Adhikari have been elected as the executive committee members.
The election of new executive comes following the dissolution of two former organisations Bhutanese Organisation in Australia & Bhutanese Association in Victoria wherein members of the both organisations came together to form a single organisation of the community.
The outgoing presidents from both the organisations formally announced the dissolution of their executives before the election of new and united organisation in presence of over 300 community members.
Deepak Vinayak JP, the Patron of South Asian Community Link Group (Australasia), who voluntured as the chief of election commissioner, congratulated the newly elected executive committee members and advised to work through integration within the broader community. He welcomed Bhutanese community to work closely with South Asian Community Link Group and expressed willingness to mentor the newly elected executive members on organisation cultures and strategies planning.
Community members enjoyed BBQ after the election.