Parties exchange war of words
As expected, the war of words has engulfed the Bhutanese politics following the suspension of the three secretaries on allegations that they didn't conduct their duty properly.
The Opposition Party, Druk Phuensum Tshogpa (DPT), claimed the suspension was a politically motivated act to demoralise the civil service system.
The party has asked the government to reinstate the three government secretaries while a transparent investigation process by the Royal Civil Service Commission (RCSC) is being conducted.
The Opposition Party says the three secretaries were "surrendered" in the most humiliating manner without giving them the opportunity to defend themselves.
DPT says they are also doubtful whether the Cabinet has the authority to dismiss the officers from the position to which they were appointed by king.
The release also says the three Secretaries have distinguished service records with two of them awarded Red Scarves.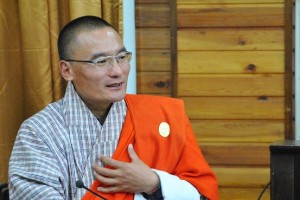 Prime Minister Tshering Tobgay, in response, said he is disappointed by the statement issued by the opposition party. In a statement, he said the opposition party use inappropriate way to voice is concerns.
"A direct letter would have been more appropriate and productive, to which the government would have been happy to respond," the statement reads.
"The government is very concerned that the Opposition Party has chosen to incite fear in the civil service instead of providing constructive views".
The statement further reads, "The government strongly objects to the Opposition Party's attempt to mislead the public into believing that the surrender of the Secretaries was politically motivated".