RCSC says government cannot dump secretaries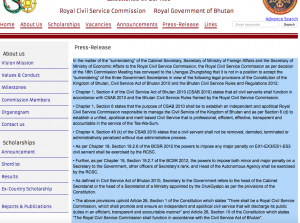 The Royal Civil Service Commission of Bhutan has rejected the government's decision to dump three secretaries on charges of acting without government's notice.
The cabinet has recently dismissed Cabinet Secretary, Secretary of Ministry of Foreign Affairs and the Secretary of Ministry of Economic Affairs and sent to the reserved quota of the Royal Civil Service Commission.
The commission said, since the secretaries are appointed by king and work under the commission, the government has no authority to remove them.
The position of the commission has posed serious threat to the authority of the elected government thereby making it incapable in front of the bureaucracy. The commission said, secretaries are accountable to Tsa-Wa-Sum, which literally translated to King, Country and People. It has raised questions whether the secretaries should be accountable to the government, elected by people.
"The Civil Service Act of Bhutan 2010 states that a civil servant shall not be removed, demoted, terminated or administratively penalized without due administrative process," the RSCS statement reads.
"Further, the powers to impose both minor and major penalty on a Secretary to the Government, other officers of Secretary's rank, and Head of the Autonomous Agency shall be exercised by the RCSC."
The commission has asked the cabinet to submit details/evidences of the charges to the Commission.