US welcomes 80,000th exiled Bhutanese for resettlement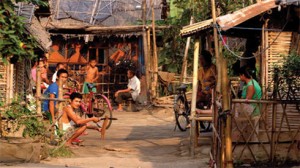 The United States has resettled 80,000 exiled Bhutanese by today (November 10), US Embassy in Kathmandu said in a statement.
"The 80,000th refugee from Bhutan departed from Nepal for the United States of America yesterday," the Embassy said, "The US Ambassador to Nepal, Peter W. Bodde, bid farewell to Karmi Uraw, Dil Bahadur Sarki, and their 11-month-old son at Tribhuvan International Airport."
The family will live in Columbus, Ohio of the States, according to the Embassy.
It added that the family will reach the United States today, on International Human Rights Day.
Bidding farewell to the family, Bodde also appreciated government and people of Nepal for hosting thousands of Bhutanese refugees for more than two decades.
"Nepal's history shows its commitment to protecting those who have come here seeking refuge," the Embassy quoted Bodde in a statement, "In that honorable tradition; I encourage Nepal to continue to act as a model for the world as a durable solution for refugees from Bhutan is found."
The US government has been resettling Bhutanese refugees since 2007. The Nepali government, the United Nations High Commissioner for Refugees (UNHCR), and the International Organisation for Migration (IOM) are providing support to the States for the same.
According to latest records, more than 93,000 exiled Bhutanese have landed in third countries including Australia, Canada, Denmark, the Netherlands, New Zealand, Norway, the United Kingdom, and the United States from Nepal for resettlement.